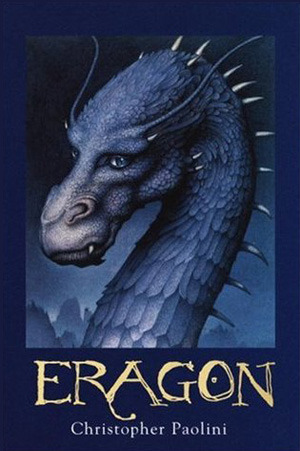 Eragon by Christopher Paolini
Summary: One boy . . . One dragon . . . A world of adventure. When Eragon finds a polished blue stone in the forest, he thinks it is the lucky discovery of a poor farm boy; perhaps it will buy his family meat for the winter. But when the stone brings a dragon hatchling, Eragon soon realizes he has stumbled upon a legacy nearly as old as the Empire itself. Overnight his simple life is shattered, and he is thrust into a perilous new world of destiny, magic, and power. With only an ancient sword and the advice of an old storyteller for guidance, Eragon and the fledgling dragon must navigate the dangerous terrain and dark enemies of an Empire ruled by a king whose evil knows no bounds. Can Eragon take up the mantle of the legendary Dragon Riders? The fate of the Empire may rest in his hands.
Rate(1-10): 7
For the longest time, my sister told me to read this book. It's generally considered a book for younger readers, but hey, I picked it up anyway. It's never too late to enjoy a book. Of course, you all know how much I like big books. That is, well written big books.
Paolini is impressive: he wrote this book when he was pretty young, and it's 497 pages. I am impressed. But I don't think it was as good as many reviews made it sound.
This book is about Eragon, a teenage boy, who finds a dragon egg in the mountain range and then, of course, raises that dragon.
I didn't find this story to be particularly enticing, and some of the parts were unnecessary and sounded kind of awkward. But then again, it did have its good parts. Paolini is really good at description and fight scenes. Those fight scenes are good. But there are a lot of characters and places and I found it kind of hard to keep up sometimes.
But still, give this book a try.