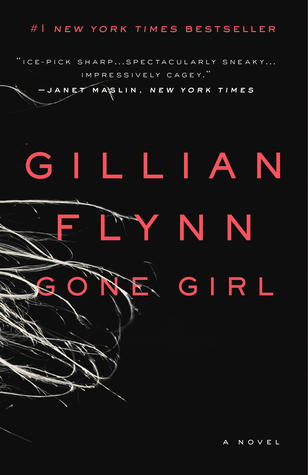 Gone Girl by Gillian Flynn
Summary: On a warm summer morning in North Carthage, Missouri, it is Nick and Amy Dunne's fifth wedding anniversary. Presents are being wrapped and reservations are being made when Nick's clever and beautiful wife disappears. Husband-of-the-Year Nick isn't doing himself any favors with cringe-worthy daydreams about the slope and shape of his wife's head, but passages from Amy's diary reveal the alpha-girl perfectionist could have put anyone dangerously on edge. Under mounting pressure from the police and the media—as well as Amy's fiercely doting parents—the town golden boy parades an endless series of lies, deceits, and inappropriate behavior. Nick is oddly evasive, and he's definitely bitter—but is he really a killer?
Rate(1-10): 9.5
Alright, I'm just going to straight up say that this book is not a book that can be reviewed without any spoilers, so, that's right-- I'm doing that thing I rarely do. I'm going to write a spoiler-filled review.
This book was so fucking amazing, let me tell you that. I know that it's only February, but I have a feeling that this is going to be the best book I read all year. It's been a really long while since I've read something this good.
The writing was absolutely amazing, incredible, clever, witty, inspiring, and influential. It had
voice.
This is emphasized since there are two points of views. Even though it's possible to tell the two main characters apart through their voices, they both have a common tone because they're both equally psycho. The writing is the main reason why I gave this book such a high rating.
Gone Girl
made me think about reading more adult novels, even though I've stubbornly stuck to YA for such a long time. Freaking Gillian Flynn. Brilliant.
Now, let me tell you about the storyline. (How many books have a great storyline AND great writing?) Here come the spoilers. Both Nick and Amy, the two main characters, start out as two completely normal people who are married to each other. A little bit into the book, Nick comes home and finds that Amy is gone, leaving a chaotic scene in the living room, as if she got kidnapped and murdered. Throughout the book, we learn a lot more about both our characters. In the first half of the book, we have "Diary Amy" and present-day Nick narrating. The first half of the book pushes all the suspicion to Nick, and everyone thinks he's the bad guy, that he killed his own wife. And then, holy fucking shit. Diary Amy was a fake. Amy turns out to be an absolute
psycho bitch
, as Nick calls her near the end of the book. It turns out that Amy has framed Nick for her murder because she found out that he was cheating on her. As the book progresses, you just hate both of them more and more. It's crazy, because you actually start out liking them, and then you end up hating them because they're both insane psychopaths. Despite this, they still end up together, and it's like they're a perfect pair because both are equally psycho and they just pretend to love each other but somehow it works absolutely perfectly...
This book will fuck you up, and you just
have
to read it.