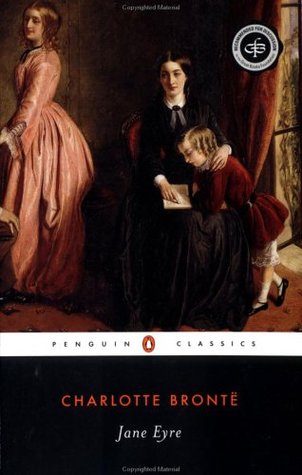 Jane Eyre by Charlotte Brontë
Goodreads Summary: Orphaned into the household of her Aunt Reed at Gateshead, subject to the cruel regime at Lowood charity school, Jane Eyre nonetheless emerges unbroken in spirit and integrity. She takes up the post of governess at Thornfield, falls in love with Mr. Rochester, and discovers the impediment to their lawful marriage in a story that transcends melodrama to portray a woman's passionate search for a wider and richer life than Victorian society traditionally allowed. With a heroine full of yearning, the dangerous secrets she encounters, and the choices she finally makes, Charlotte Bronte's innovative and enduring romantic novel continues to engage and provoke readers.
Rate(1-10): 8
I enjoyed Jane Eyre. This was yet another book I had to read for school, but I haven't enjoyed an assigned book this much since The Scarlet Letter.
It started out a bit slow. With classic literature, the contemporary factors that modern readers are used to (like, action and violence on every other page) are not really present. But that's the beauty of it. Brontë's writing is truly beautiful, and at a lot of points in the book I found myself having to pause and think "I should write that down" and add it to my wall of profound quotes about life (lol jk that wall has a bunch of Doctor Who quotes on it).
What really made me like this book was the ending. I never really expected this to end well. (Oops, spoiler alert.) But it had a really sweet ending, and it really provided a lot of closure. It proved that all the difficulties Jane had to endure throughout the novel was worth it, and she ended up with a Cinderella ending... except this time, Cinderella got a chance to save herself. I find that many works of classic literature I've read end up with tragedy. But Jane Eyre had a happy ending. And even though that is the case, it wasn't cheesy. It was real, and dark. But in the end, our characters pulled through.