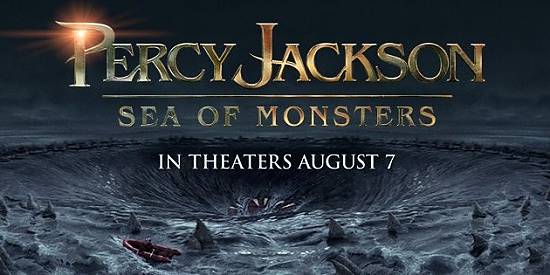 Alrighty, recently I went to the movies and saw SEA OF MONSTERS! (I went to see it the day it premiered, and this is a scheduled post BUT OH WELL) It was completely awesome.
Well, anyways, this movie was really good. Despite all the complaints about The Lightning Thief, they really tried to fix it up by following the book a lot more.
That seems to be the main concern, really. But okay-- it was really good. I didn't like The Lightning Thief that much, (maybe because I didn't get to see it on the big screen) but Sea of Monsters has definitely made everything up for me. Sea of Monsters was a REALLY GOOD movie. Once again. The trailer looks awesome, doesn't it? Well, for those who haven't seen the movie yet and haven't seen the trailer yet, behold:


Okay! Well. I should have reread the book before watching the movie, buuuuuut.. I didn't. There were a handful of satisfied reviews for this movie, actually, and those were from the people that absolutely hated The Lightning Thief. I think I heard something about a new director, so maybe that's the reason. I absolutely loved seeing the cast on screen (especially Logan Lerman and Jake Abel) and I have to say, "What are you doing? Don't walk on my roof." was my favorite quote. Yeah, that was from Luke. (Jake plays a mean bad guy.) I know that there were a lot of complaints regarding "not following the book" in The LT but if you just watch it like it's its own movie, it's actually really enjoyable. It's not obligated to follow the book. Just enjoy. So, yeah. Just give it a try. I'm 99% sure it's gonna be worth the money.