The Knife of Never Letting Go by Patrick Ness.
Book Summary: Prentisstown isn't like other towns. Everyone can hear everyone else's thoughts in an overwhelming, never-ending stream of Noise. Just a month away from the birthday that will make him a man, Todd and his dog, Manchee -- whose thoughts Todd can hear too, whether he wants to or not -- stumble upon an area of complete silence. They find that in a town where privacy is impossible, something terrible has been hidden -- a secret so awful that Todd and Manchee must run for their lives. But how do you escape when your pursuers can hear your every thought?
Liana's Summary: Todd can't wait to become a man. Just one more month and he's thirteen years old- that's considered a man in Prentisstown. Prentisstown has no women. They all died of the Noise germ, as Todd believes. The Noise germ allows no one person's thoughts to be private. The Noise screams all the thoughts out. When Todd meets Viola, everything changes. Everything. And he might have someone to take along on his flight.
Rate(1-10): 10!
Wow.
WHAT IN THE WORLD. JUST WOW. JUST EFFING WOW OK.
My friend Dalena at kwalebooks.wordpress.com (visit her everybody. Her reviews are fabfabfab) was talking to me about this book and she was typing in all caps and screaming and crying and I was like ohlord I need to read this book. Mainly because I was in desperate need of a good Dystopian. Haven't visited that genre in a while!
So, I would like to dive right in into character discussion.
Todd-
He's the main character. Yes. Him. He seems badass at times and like a wuss at times and a really responsible 12-year-old man at times. (He does act older than he is.) He narrates like he talks. So then, watch out for the
ain't
s and the
yer
s (HE TALKS LIKE HAGRID OMG). He can't spell or read so then every word that ends with -tion appears as -shun. Which is fine. It's quite amusing. Todd is freaking remarkable. He talks with this awesome
voice
that makes you feel that you're right next to him and he's taking your hand and pulling you along with him. The amount of character development is so incredible even someone so oblivious and un-sober would realize it.
One thing a reader should know about Todd though: He tells Manchee to shut up a lot and he has anger issues. That's all before he meets Viola though. Also he drops the f-bomb. A LOT.
Viola-
Okay. How can I say this. None of anything would have happened without THIS girl. I love her! She's so amazing and brave and ermagerd I'm dying. None- I say NONE of Todd's character development would have happened if it wasn't for this girl. Wow. I hope there's romance in books 2 and 3 between Todd and Viola. Their sense of RESPONSIBILITY for each other is already too cute.
Manchee-
Yes a dog totally deserves a section of my character discussion. I love him. Okay. I love this cute pup. He- ok I can't continue. I can't say his name without exploding. -cries- -screech- -scream-
MANCHEEEEEEEEEEEEEE
And yeah. I'm not going to discuss the antagonist, of course. There would be plenty of unpleasant words involved that would probably cause all my readers to get off this blog, horrified. LOL. But all I have to say is that he's plain evil. Watch out for him.
The Beginning- Is a bit slow. But the first page is quite amusing. It causes the readers to just want to continue. It made ME want to continue.
The Middle- It started to get ridiculously interesting here. Suspense was wrenching at my heart-
The Middle/End- THE SUSPENSE OMFG I'M DYING
The End- NO! WHY! THE CLIFFHANGER WHY WHY WHY -vulture screech-
Now I have to get my hands on books 2 and 3. I will. Kekekekekekek.
Anyways. The 'Noise' is basically thoughts. Thoughts, thoughts, thoughts. Talk about privacy invasion. The Noise is everywhere- you can't stop it from flowing.
This book reminds me a lot of
The Perks of Being a Wallflower
and
Of Mice and Men
. The Perks because of the way the narrator narrates. And OMAM because of the inexplicable sense of responsibility the main character feels.
The title and cover of this book. Just wow. It just CAUSES the readers to WANT to read it. Amazinggggg. The explanation for the cover starts in Chapter 7. But the only thing I'm annoyed at is that THE MAIN CHARACTER LET GO. HE FREAKING LET GO.
This book is seriously heart-wrenching and ohmygoodness. It made me laugh, cry, hyperventilate, cuss out loud, and make my face into an expression of disgust. It just came automatically. I didn't even try. It just. Wow. It's like a cue.
The author's imagination. I LOVE LOVE LOVE it. The suspense kills me. That cliffhanger ending though. Goodness me. It's just screaming at my face "GET THE NEXT BOOK OR DIE" and I will. Get the next book, I mean. EPUB, PDF, Paperback, Hardcover- I don't care. I just need a copy. Need. Not want. NEEEED.
Now. Quotes. The extremely quotable quotes.
"The spacks released their woman killing germ..."
-Gasp- Who would kill WOMEN.
" Is that a book? " I say. "You were sposed to burn that ages ago."
WHO WOULD BURN BOOKS
"Before I can do nothing he punches me in the face.."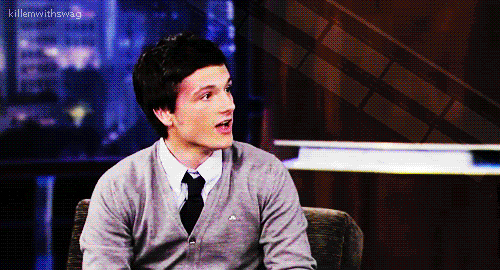 "It's a girl."


"..then they're women and they become wives."
WHAT. THIRTEEN IS TOO YOUNG TO MARRY.
"I take my fist and punch myself hard in the face.."
"She's talking.."
"I ain't a pup!" I shout.
Dang. Anger issues though.
"And off we run into further night.."
THAT'S RIGHT
HOLD HER HAND AND RUN OFF INTO THE NONEXISTENT SUNSET
"He smelled like fresh bread."
Nice description.
"And in a moan and a shudder he dies..."
"You can eat a turtle."
Oh my goodness please don't eat the turtle.

"I can't carry her. I'm too shaking and lopsided and weak.."
NO!!!!

"The choice is yers."
No it's naawt.

"I'm sorry, Manchee!"
-VULTURE SCREECH-
NOOOOO!!!!
"I don't know what to do with my hands so I just grab his shirt front in my fists and shake him in a way that's gotta mean love.."
This is randomly hilarious.
-shake-
I LOVE YOU, FATHER!
"TODD HEWITT!"
RUN RUN RUN
"And I'm in the air-"
I believe I can fly.
"And Viola's on top of me and I'm breathing heavy into her face and she's breathing heavy into mine..."
Alright that's not attractive.
"And I drop the knife.."
NO! It's the KNIFE OF NEVER LETTING GO. HOW DARE YOU DROP IT
"I ignore him."
"Yer not effing dying!" I say. "Not today!"
-----------------
And that is all! I seriously loved this book; definitely a recommendation. (Burned 30 percent of my ereader battery since I read it in one sitting)
What did you think of this review? (: