Requiem by Lauren Oliver.
(Delirium Trilogy #3)
Book Summary:

They have tried to

squeeze

us out, to stamp us into the

past

.
But
we
are still here.
And there are more of us
every day
.
Now an active member of the resistance, Lena has been transformed. The nascent rebellion that was under way in Pandemonium has ignited into an all-out revolution in Requiem, and Lena is at the center of the fight.
After rescuing Julian from a death sentence, Lena and her friends fled to the Wilds. But the Wilds are no longer a safe haven—pockets of rebellion have opened throughout the country, and the government cannot deny the existence of Invalids. Regulators now infiltrate the borderlands to stamp out the rebels, and as Lena navigates the increasingly dangerous terrain, her best friend, Hana, lives a safe, loveless life in Portland as the fiancée of the young mayor.
Maybe we are driven
crazy
by our feelings.
Maybe love is a
disease
, and we would be better off without it.
But we have chosen a different road.
And in the end, that is the point of escaping the
cure
: We are
free
to choose.
We are even free to choose the
wrong
thing.
Requiem is told from both Lena's and Hana's points of view. The two girls live side by side in a world that divides them until, at last, their stories converge.
Liana's Summary: Lena's different now. She's not the girl that she was before. She won't be. She wanted freedom, freedom in the Wilds, freedom with her one true love (whoever that is). She doesn't want anything to remind her of what she had-- or didn't have in the past. War. Fighting. People dying. This isn't what she wanted. She's going to play her part in this war-- and everything will be fine in the end.. right?
Lauren Oliver takes you on one hell of a ride through this amazing and long-anticipated conclusion to the Delirium trilogy.
Oh my. My exceeding use of exclamation marks. Ha. Anyways, if you haven't read
Delirium
or
Pandemonium
yet just go ahead and read my reviews on both. (If you're not familiar with the Delirium world at all, this review probably won't make sense.. Also, if you haven't read Pandemonium, then don't read this review. Please. Or just read it, at your own risk.
) Because this is one RIDICULOUSLY OVERLY FABULOUS series to read. Not to mention it's high on my Top 10's list.
Well. All of you know that out of my highly-anticipated-reads list, this was on the very top. Requiem. I've been waiting for about 8-9 months for this book. In that period of time, I have passed this book on to friends and fellow bloggers, insisting that they HAD to read it. As of right now, I'm still pestering people to read it. For those of you who've read Pandemonium, and suffered that cliffhanger ending, you understand how painful that must have been. Requiem was even higher on my anticipated-reads list than Cassie Clare's Clockwork Princess. (Which, I am happy to say, is already preordered and will arrive soon enough. EEEEEP) Okay, long story short: Requiem was THE book that I NEEDED for this whole entire year. If I had to choose just one book to get this year (ouch, the pain of this negative speculation) it would be REQUIEM.
Well, let's get on to actually discussing this story. LOL. Before I start babbling about buying this book and how I waited for a thousand years for its arrival
So basically, I hated everyone in this book.
But this book was so good.
I had this love-hate thing going on this whole entire time. I'm just like DAMMIT IF YOU DIDN'T DO THIS THEN THIS WOULDN'T HAVE HAPPENED and then I would start bawling my eyes out and throwing tantrums. I know, scary. But that's what Lauren Oliver does to people with her too-amazing writing.
Let's see. (Btw, if you dislike curse words and really passionate voices and caps lock, please skip the next paragraph. Will probably contain spoilers for people who have not read Delirium or Pandemonium.)


Let's start with Lena. THIS STUPID BITCH. SHE'S A GREAT PROTAGONIST BUT A STUPID BITCH. If she weren't so selfish and indecisive nothing would have happened!! And then there's Hana, her stupid hoe of a best friend who HAD to betray her and Alex and betray everybody! Because she was fucking jealous! If it weren't for her then Lena and Alex would still be happy and Lena would have never met Julian! And so there's Alex. If he never sashayed into her life then EVERYTHING WOULD HAVE BEEN FINE AND THINGS WOULD HAVE BEEN NORMAL. And then there's that fucking shithead Julian. Why did he even have to come into this story? Lena and Alex could have been happy!! DAMMIT.
I think I'm done. (Sike.) I'll just rave about it in my head some more, but there you go. My thoughts and feelings in that one paragraph above..
What I love about Lauren Oliver and her series is that she made everything work out in the end.
Let me just do character discussions.. May contain spoilers. Man, everything contains spoilers, doesn't it?
Lena- Lena. She's really complicated, actually. She's definitely not the girl that she was in the very beginning of the first book. She's a great protagonist and realistic too, with realistic qualities that make her so annoying in some ways and just a really brave role model and heroine in other ways. She's been through a lot of character development, which is just amazing.
Alex- He's changed as well. But no matter how much he tries to hide his sadness and bitterness and regret, I still see the old Alex, caring for her. No matter how hard he tries, he still loves her.
Julian- In book 2, I thought he was pathetic. Right now, I still think he's pathetic. LOL. But, still. Now that I've gotten to know him, he's not bad. I actually like him now. He was there for Lena to give her support, to make sure that she didn't fall and break into a million pieces. His patience is remarkable.
Hana- Loyalty over everything else. At first, when I read the synopsis before this book actually came out, I was dismayed that Hana had a PoV in this story, because, well. AIN'T NOBODY GOT TIME FO' HANA OK. That's what I thought at first. But she's actually really important and a very interesting character. She was the escape that all readers needed whenever they became so sick and tired of Lena's romance drama, which I admit that I became more than once. Hana is an insight of not only what happens in the 'orderly' world, how life would be if they followed the law, but also a view of what being cured seems like. No matter what the cure is, no matter how many chemicals they use, they won't get rid of all the human emotions that make a person human. What I admire about Hana is that she was always so smart about everything, that loyalty and friendship came to be the most important in the end. She shows us that if you make mistakes, you can still redeem yourself.
Raven- She was always there, always a leader. The romance between her and Tack is just too cute. Oh my lord. I love Raven, and she will always have a place in my book-loving heart. Such an amazing character! (I'm using the word amazing too much)
Coral- At first, I thought she was just there to cause trouble and mayhem and to just slow them down. But boy, was I wrong. Coral's coolio. Although she was a bit of a bitchy girl in the beginning. LOL.
Fred- Someone sing I KNEW YOU WERE TROUBLE right now
Lauren Oliver's writing is truly remarkable.. have I said that? Between the time I finished Pandemonium and now, I've read BEFORE I FALL, and LIESEL & PO among many other books that I read to keep me distracted. I just couldn't get enough. She writes with this amazing grace that's quiet even in the most violent scenes and authentic, too. A voice. WELL. IT'S LAUREN OLIVER. DUH. LOL.
The ending. It was a classic Lauren Oliver ending. It reminded me of the ending of Patrick Ness's MONSTERS OF MEN. A ghost ending, but an ending. It was perfect. I bawled. Tears of joy.
I can't believe it's over, it's done. I can't believe I'll be saying goodbye to this series, although they still have a place in my desk drawers and my future shelf and in my heart. So it's never gonna be goodbye. Ever. (':
I can't wait for the Delirium TV show.
A lot of my questions were answered. Loved this book so much. Didn't want to finish it but wanted to finish it at the same time. AND THE ALEX NOVELLA AT THE END OMG I LOOKED INTO THE DEPTHS OF HIS SOUL. :D I'm just glad I preordered gosh
Quotes!
"Julian has his own tent for now."

"Remember when we first met?"
Noooooo no one wants to remember ugh

"It's because of him, isn't it?"
yes yes it is
"There's nothing between us anymore."
"Look, what I'm saying is that you're my caddy."
D'aaaaaw. That's cute. I think.
"Because if it weren't for me, Lena and Alex would never have been caught at all."
"This is crazy,"
No,
you're
crazy you stupid bitch!
"I'm sorry for everything."
"Forgive me."
"He was still in love with you, anyway."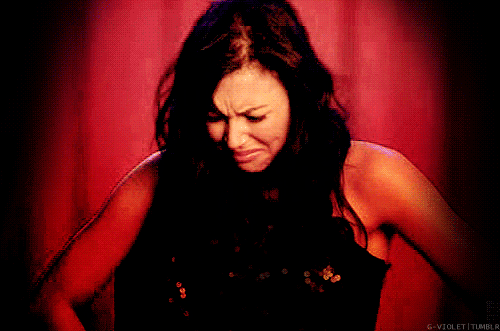 "He told me so."
"Alex sacrificed himself once so that I could live and be happy."
"I am still in love with him."
"Pop."
"It's true."
"Do you love me?"
-----
This series has taught me and undoubtedly many others a lot of things. About loyalty, about friendship, how to survive out there, trust, and love. And not to wipe yo' ass with poison ivy.
It's either my foreshadowing skills giving me foresight or Lauren Oliver's amazing writing that allows a reader to foreshadow. I highly think it's the latter, LOL.
Throughout most of the book, I said to myself: TEAM JULIAN. But still, inside, that small part of me was indignant for Alex. Alena all the way.
---
That's that.
What did you think of this review?(':