City of Fallen Angels by Cassandra Clare.
(Mortal Instruments Series, #4.)
Book Summary: The Mortal War is over, and sixteen-year-old Clary Fray is back home in New York, excited about all the possibilities before her. She's training to become a Shadowhunter and to use her unique power. Her mother is getting married to the love of her life. Downworlders and Shadowhunters are at peace at last. And - most importantly of all - she can finally call Jace her boyfriend. But nothing comes without a price. Someone is murdering Shadowhunters who used to be in Valentine's Circle, provoking tensions between Downworlders and Shadowhunters that could lead to a second bloody war. Clary's best friend, Simon, can't help her. His mother just found out that he's a vampire and now he's homeless. Everywhere he turns, someone wants him on their side - along with the power of the curse that's wrecking his life. And they're willing to do anything to get what they want. At the same time he's dating two beautiful, dangerous girls - neither of whom knows about the other one. When Jace begins to pull away from Clary without explaining why, she is forced to delve into the heart of a mystery whose solution reveals her worst nightmare: She herself has set in motion a terrible chain of events that could lead to her losing everything she loves. Even Jace.
Liana's Summary: Everything is taken care of. The old villain is dead. Their obstacles are gone. Now, Clary is training to be a Shadowhunter, fighting demons and all that. She can finally call Jace her boyfriend. There's Simon, always calling Clary on her phone to talk about his romance problems (So cute). However- things start to get wrong. Shadowhunters are being murdered. Someone is trying to make more babies like Jonathan- and Jace is changing, bit by bit. Clary may or may not notice in time before she loses him completely.
Rate(1-10): 10
When I read the book summary of this book, I was so scared, because, I don't want Clary to lose Jace! And, I was scared because many reviewers said that this book ruined absolutely everything. Well, that's not really true. All those negative reviews weren't worth reading. (': I speak for myself, so, um. Everyone calm down. Haha.
I think what got people to say that this book ruined everything was the new antagonist. Now, everyone (at least I think everyone) knows that the MI series was supposed to end at book 3, City of Glass. Ya'll should be grateful that Cassie Clare decided to write more. Of course, the end of Book 3 was so cute and un-cliffhangery, you should expect it to end there. The antagonists were dead, Jace and Clary can be together, everyone's happy, blah, blah, blah. And then there's this book. New antagonist. Cliffhanger ending. It's FABULOUS, in my opinion. What kind of book has no antagonist, anyways? What worries me is that the antagonist was supposedly dead in this book, but um. I read the summary for City of Lost Souls and SHE'S NOT DEAD.
I seriously think this book was written just so people could like Jace more than they do. But, I'm still for Simon.
Okay, since this is the 4th book of the series, I really have nothing left to say. Look at my review for City of Bones if you want to know more about this uber-fab series.
So, it's time for quotes! (: I know you missed it-- its absence in my review for Of Mice and Men was disconcerting.
"Well, when a mommy vampire and a daddy vampire love each other very much.."
Ohmygoodness. His humor. It's still there.
"As if someone had taken a thin paintbrush and drawn a simple design on his forehead, just above and between his eyes."
Simon's the next Harry Potter!
"I am Camille Belcourt."
"Will you let me see it?"
Simon could actually feel his eyes pop out. "See what?"
This is too much for me to handle. LOL.
"She hung up and stuck her phone into her bra;.."
Well, if she wants her boob to vibrate.
"I was born amazing."
His arrogance. It's still there. (':
"Alec keeps sending me annoying photos."
AWWWWWW. So cute. (': MALEC 5EVER.
"Is this where I can find the band Dangerous Stain?"
"We're Dichotomous Lemur now,"
How much times have they changed their band name. This is why they have no fans. omg.
"You suck big, hairy--"
WHOA, CALM DOWN.
Simon winced. "She's thirteen."
Oh. LOL.
"Look," he said, reaching for his pocket. "You can have my wallet--"
Really. Someone wants to kill you and you offer them your wallet.
"I don't ever want to lose you."
That is exactly what Jem said to Tessa in Clockwork Prince. "Wo ai ni. Wo yong yuan ye bu yao shi qu ni."-- I love you, I don't ever want to lose you. I think that it's awkward speaking Chinese to Tessa when she doesn't understand.
"...the perfect strip of skin revealed between the hem of his T-Shirt and the belt of his jeans."
So, since when did guys show their stomach like that? Guys don't dress like that? Or do they. -horrified-
"White for Shadowhunters is the color of funerals,"
It's like that for Chinese people too! My mom hates white stuff.
"..the books that lined the shelves arranged in alphabetical order.."
Hm. I would do rainbow order. Or hardback- paperback arrangement.. order. OH JACE. (':
"It's not you, it's me."
It's not me, it's not you, there's a reason. Like a stone on fire, can you heaaaaaar it?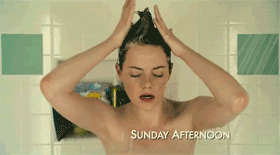 "There's a thin layer of nerd over everything."
Um. Okay. (:
"I like mangoes."
AND SO DO I.
"I think," Jace said, "that she asked if she could touch my mango."
This. Was. The. Line. Of. The. Whole. Book.
"Brother Zachariah's eyes were closed,.."
Seriously. Brother Jeremiah. Brother Zachariah. What else rhymes.
"..growling sexily into a microphone."
Oh. Ummmm. This is really awk. Can you even growl sexily. Oh wait.. considering what he is, this actually makes sense.
"I didn't mean to,"
It's the Lennie Small moment. "I DIDN'T MEAN TO, GEORGE." (Reference to Of Mice and Men.)
"Once upon a time she was my girlfriend."
"I've missed you Magnus,"
"No, you haven't."
Mhmmmmmm. Bring out the sass.
"He was fast and strong."
Oh my god. This totally reminds me of Twilight.
------------------------
And, that is it! (:
What did you think of this review?